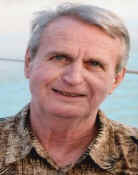 Robert (Bob) T. Stuedemann - 69
2/28/1943 - 4/3/2012
Clinton - Robert (Bob) T. Stuedemann, 69, of Clinton, IA passed away suddenly of complications due to lung cancer on Tuesday, April 3, 2012 at Clarissa C. Cook Hospice House in Bettendorf with his wife and children by his side. Funeral services will be held at 10:30 A.M. on Saturday, April 7th at the Pape Funeral Home. Visitation will be from 4:00 to 7:00 P.M. Friday, April 6th at the funeral home. Burial will be in Clinton Lawn Cemetery.
Bob was born at Mercy Hospital, Clinton, Iowa on February 28, 1943. He was the son of Vera (Dorsey) Stuedemann and Lawrence (Larry) C. Stuedemann. He graduated from Clinton High School in 1961. He was united in marriage to Mary Ann Washburn of Calamus, Iowa on February 13, 1965.
Bob was employed at Alliant Energy for 30 years retiring at the age of 61. Bob served in the United States Army in the 11th Armored Cavalry Regiment during the Vietnam War from 1967-1968. He earned 2 Purple Hearts for wounds received in action and the Army Commendation Medal. He was most proud of his Combat Infantryman Badge. He was a member of the 11th Armored Cavalry's Veterans of Vietnam and Cambodia (ACVVC), and the Calamus American Legion.
Bob loved entertaining his family and friends in his backyard pool. He always had to have special treats for his grandchildren. He looked forward to his annual Vietnam reunions, to spend time with his brothers in arms. He enjoyed fishing trips with his cousin, Chuck. Other favorite pastimes included baking peppernuts and cookies, grocery shopping at Fareway, NASCAR and the Indy 500, playing cards, woodworking and carpentry projects.
Bob was a kind and gentle son, brother, husband, father, and grandfather. He is lovingly remembered by his wife of Clinton, Mary Ann (Washburn) Stuedemann; his son of Clinton, Troy (Nancy) Stuedemann; grandchildren Cole and Abby; his daughter of Le Claire, Darcie (Chad) Melody; grandchildren Collin and Paige; his brother Bill Stuedemann of Michigan; his sister Barb (Tom) Neill of Clinton; his sister-in-law Nancy (Allan) Elias of Davenport and numerous nieces and nephews. He was preceded in death by his mother Vera, his father Lawrence, his mother-in-law Ida Washburn, father-in-law George Washburn, and a sister-in-law, Lois Stuedemann.
Memorials may be made to the family for distribution to the ACVVC Scholarship Program, Helen K. Rossi Guest House in Iowa City and the Clarissa C. Cook Hospice House. Online condolences may be left at www.papefh.com.
Visitation:
4:00 to 7:00 P.M. on Friday, April 6th at the Pape Funeal Home

Service:
10:30 A.M. Satruday, April 7th at the Pape Funeral Home.