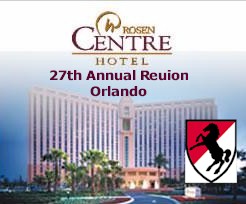 September 12-16, 2012
The Rosen Centre - Orland, Florida

11th Armored Cavalry's Veterans of Vietnam and Cambodia
27th Annual Reunion Registered Guests From K Troop
Orlando, Florida is this year's site for the 27th annual reunion of the 11th ACVVC reunion. The event will run from September 12 through the 16th. Advanced registration is now closed. Your may register at the door on the day of the event.. For more information about registration, go here.
Update: September 7, 2012
Final Update. See you all in Orlando
Allons !
85 K Troop Members, Family & Friends Have Registered For Reunion 27
Once again K Troop has rallied it's troopers and have now deployed, in force, 85 members to reunite with old friends and to make new ones. Those who have signed up for this mission are listed below.
---
TRACEY SCHOONMAKER
1970-1971
AIMEE SCHOONMAKER
---
GEPRGE COTE
1966-1967
---
SHERMAN COLEMAN
1967-1968
ADELL COLEMAN
---
STUART RUBINSTEIN
1969-1970
ELLEN BUGANSKY
---
OLLIE PICKRAL
1968-1969
TERRY PERRY--CRYSTAL PERRY--JASON SPIVEY
---
DANIEL STROIA SR.
1967-1968
BARBARA STROIA--DANIEL STROIA JR.--BRITTANY TRAITSES
---
BOB HERSEY
1968-1969
HELLEN HERSEY
---
ROBERT STUEDEMANN
(Editor's Note: Bob Died and has gone to Fiddler's Green 4-3-2012 - R.I.P.)
MARY ANN STUEDEMANN
---
JIM BRIGMAN
1967-1968
VICKI BRIGMAN
---
HAROLD FREMD
1967-1968
RHEA FREMD--TYLOR FREMD--TAYLOR SMITH--MICHAEL FREMD--RAYGEN PATSEY
---
ROBERT L. JENSEN
1968-1969
SANDRA JENSEN
---
ORVIL D. FOUTS
1967-1968
CONNIE FOUTS
---
THOMAS McKENNA
1969-1970
MICHAELE McKENNA
---
WILLIAM WOLFENDEN
1966-1967
DEBBIE WOLFENDEN
---
KENNETH GAY
1966-1967
DEBRA GAY
---
KEITH BROWN
1969-1970
---
JOHN R. SULLIVAN [JACK]
1967-1968
LYNN SULLIVAN
---
PAUL HOFFLANDER
19659-1`970
NANCY HOFFLANDER
---
DENNIS R. FOREHAN
1967-1968
MARY JO FOREHAN
---
THOMAS L. McNEAL [TOM]
1966-1967
SHARON McNEAL
---
DENNIS CHRISTENSON
1966-1967
KATHY CHRISTENSON
---
DALE E. AUSTIN
1968-1969
MARGUERITE AUSTIN
---
MICHAEL P. TONER
1967-1968
---
ALVIN ELKINS
1968-1969
---
DENNIS KELLY
1966-1967
KATE KELLY
---
KENRON RITCHIE
1968-1969
ZILDA RITCHIE
---
RICHARD D. SACK
1967-1968
PATRICA E.SACK
---
JOHN LONGHOUSER
1967-1968
CHERYL LONGHOUSER
---
JERRY BEAMON
1969-1970
JAN BEAMON
---
ERIC NEWTON
1968-1969
RENATA NEWTON
---
VELMA KAWAMAE
1969-1970
LYNDA KAWAMAE
---
ROBERT L. O'NEAL
1967-1968
CHERYL LEONARD
---
URBAN D. ELPERS
1966-1967
LINDA ELPERS
---
GERALD BRIGHT
1966-1967
LINDA BRIGHT
---
MARY ANN WRIGHT
1966-1967
---
ROBERT SCROGHAM
1967-1968
---
SHERMAN L. SMITH
1966-1967
EMILY AREHART
---
JERRELL WHITTEN
1966-1967
SHIRLEY WHITTEN
---
TONY POGLISI
1966-1967
---
CARL M. STRIETER
1967-1968
JUDY A. STRIETER
---
THEODORE CIOFFI [TERRY]
1967-1968
CONCETTA CIOFFI
---
JOSEPH HESSBURG
1968-1969
DEB HESSBURG
---
CHUCK BURR
1966-1967
CAROL BURR
---
Home | Base Camp | Photos | Guest Book | Taps | Contributor's Corner
Honor Roll | Links | Feed Back | Reunions | Search | Site Map